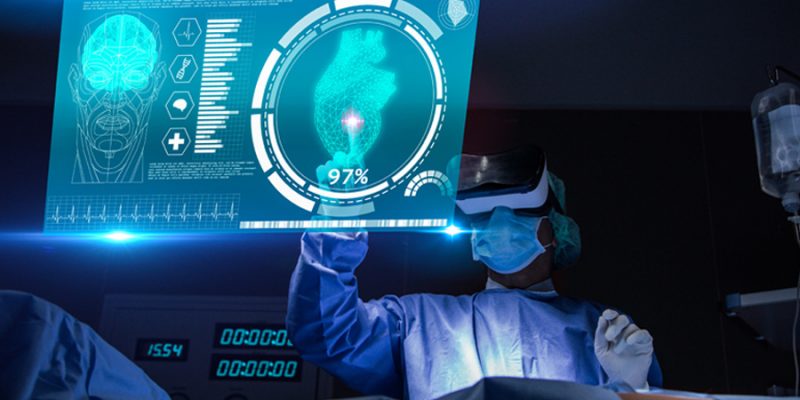 While Metaverse is still emerging, it has great promise in healthcare, combining technologies such as AI.
Metaverse is an augmented virtual environment created by the merging of physical and cyberspace, in which users may interact inside the augmented reality, virtually meet one another, and immerse themselves in virtual activities that provide real-world experiences.
While Metaverse is still emerging, it has great promise in healthcare, combining technologies such as Artificial Intelligence, VR, Augmented Reality, IoMD, Web 3.0, intelligent cloud, edge, and quantum computing, as well as robots, to give new avenues in healthcare.
Use cases of Metaverse in Healthcare:
• The metaverse will gradually transform the way psychiatrists, therapists, medical pain experts, sleep physicians, and counselors engage with their patients as the internet and phone have progressively changed the way we connect in our world over the last 50 years.
• Patients at hospitals, nursing homes, and rehab centers may be the focus of the healthcare system's metaverse. Many of these patients will be able to engage with their family, friends, and strangers in the Metaverse by wearing virtual3D glasses and possibly having a computer in front of them.
• A digital twin is a virtual model and simulation of any item, process, or machine-generated application of real-world data used to learn more about its real-world analog. In Metaverse, the patient's digital twin may be his or her own. Digital twins, according to Jack Latus, CEO of Latus Health, and an online healthcare business focused on occupational health, may someday become personal "check dummies" that can be used to predict how we will recover after surgery and how we will react.
• Medical education will use a hybrid paradigm that incorporates tele-education, telemedicine, the metaverse, and live procedural cases utilizing augmented reality.
• Gamification may be used to connect & bring together healthcare practitioners and patients.
• More and more people are discovering methods to interact and engage with other users as platforms such as Roblox have revolutionized the way gamification is regarded. Through such platforms, everyone may now dream, create, and have fun with friends. In healthcare, gamification is mostly used in fitness and wellness apps. Augmented reality is being used in smarter exercises and virtual teacher guidance.
Companies working on Healthcare Metaverse:
1. HealthLand.io, formerly known as Healthify, aims to address people's mental/physical wellness needs by allowing fitness/sports trainers as well as health experts to open their own gyms in the HealthLand metaverse, where people can join and receive low-cost emotional health consultations and fitness training from the comfort of their own homes.
2. Because DeHealth will eventually blend it with healthcare, the Metaverse does have a lot of promise. "A new web 3.0 protocol framework for a future standard of large medical data-driven ecosystems," says its whitepaper. In other terms, DeHealth will employ technology to offer billions of people throughout the world simple access to healthcare services.
3. Bump Galaxy is a Minecraft-based virtual social place for game world treatment. It adopts a bottom-up approach to mental health by utilizing a gaming environment to give new physiological sensations of security and social support, therefore assisting people in overcoming anxiety, despair, and trauma via play.
4. IoTeX is a project that, with its existing capabilities for remote monitoring, has the potential to assist patients. The HealthBlocks project, which was built from the bottom up using IoTeX, would reward users for changing their daily habits in order to live a healthy lifestyle.
5. AccuVein is really a cutting-edge vein imaging system that eliminates the fear of bruising after an injection procedure. Cosmetic surgeons can now see the enormous network of veins and blood vessels beneath the skin before treatment thanks to AccuVein's game-changing technology.
Other major projects are done by companies like:
• Global Healthcare Academy
• Microsoft
• Google LLC
• Meta Platforms, Inc.
• 8chili, Inc.