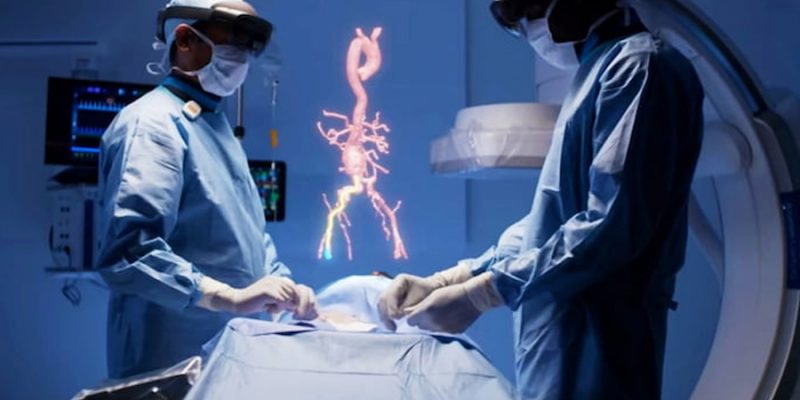 Metaverse in healthcare could create entirely new channels for delivering care that can potentially lower costs and vastly improve patient outcomes. 
Metaverse is an augmented virtual environment created by the merging of physical and cyberspace, in which users may interact inside the augmented reality, virtually meet one another, and immerse themselves in virtual activities that provide real-world experiences.
While Metaverse is still emerging, it has great promise in healthcare, combining technologies such as Artificial Intelligence, VR, Augmented Reality, IoMD, Web 3.0, intelligent cloud, edge, and quantum computing, as well as robots, to give new avenues in healthcare.
Some key areas where Metaverse is growing in the healthcare industry are:
Doctor visits in Metaverse
The first to adjust to this new way of life will be nurses and doctors whose specializations rely on verbal exchanges rather than procedural treatments. The metaverse will gradually transform the way psychiatrists, therapists, medical pain experts, sleep physicians, and counselors engage with their patients as the internet and phone have progressively changed the way we connect in our world over the last 50 years.
Digital Twin
Digital twin technology has the potential to revolutionize a number of crucial areas of healthcare, including patient treatment and diagnosis, better-optimized preventative care, improved surgery preparation, and much more.
Expanding the usage of virtual reality
Virtual reality is being utilized by physicians and experts to teach colleagues, doctors, and medical workers, where virtual reality may be used to immerse a learner in a human body and offer a 360° picture of a patient's disease or to imitate real-world operations.
To offer minute information, the entire encounter may be recorded and watched on desktop screens.
Augmented reality in Surgical procedures 
Surgical operations that were formerly performed using robots are now being replaced by augmented reality. Doctors are looking forward to the new techniques to do these procedures with accuracy, whether it's removing dangerous tumors or completing a difficult spinal surgery. Robotics, often known as robot-aided surgery, has been used to execute complex procedures with perfection and flexibility for some time.
Medical Education
Medical education will use a hybrid paradigm that incorporates tele-education, telemedicine, the metaverse, and live procedural cases utilizing augmented reality.
DeHealth
To make Metaverse in healthcare conceivable, DeHealth, a system of Web 3.0 based healthcare solutions, has formed strategic cooperation with InnMind, a prominent European community-based ecosystem.
MyVoice has partnered with the medical data-driven emerging standard ecosystem to ensure that people have authority over their medical information. However, DeHealth's most recent proposal is the most significant.
Gamification may be used to connect & bring together healthcare practitioners and patients.
More and more people are discovering methods to interact and engage with other users as platforms such as Roblox have revolutionized the way gamification is regarded. Through such platforms, everyone may now dream, create, and have fun with friends. In healthcare, gamification is mostly used in fitness and wellness apps. Augmented reality is being used in smarter exercises and virtual teacher guidance.
Virtual connection for patients
Patients at hospitals, nursing homes, and rehab centers may be the focus of the healthcare system's metaverse. Many of these patients will be able to engage with their family, friends, and strangers in the Metaverse by wearing virtual 3D glasses and possibly having a computer in front of them.
Hospital Design Virtual Tour
Planning a healthcare institution is a time-consuming and labor-intensive procedure. Clients may now take a "hospital tour" and experience its layout & room finishes even before the hospital is even completed thanks to the benefits of virtual reality.
Interoperability is a crucial feature.
Avatars, 3D models, mixed reality & spatial environments are examples of asset classes that work together along with their metadata to generate content packets that are essential components of the virtual world. Data and communication protocols will emerge in tandem with the industry, enabling intra metaverse communication possible.