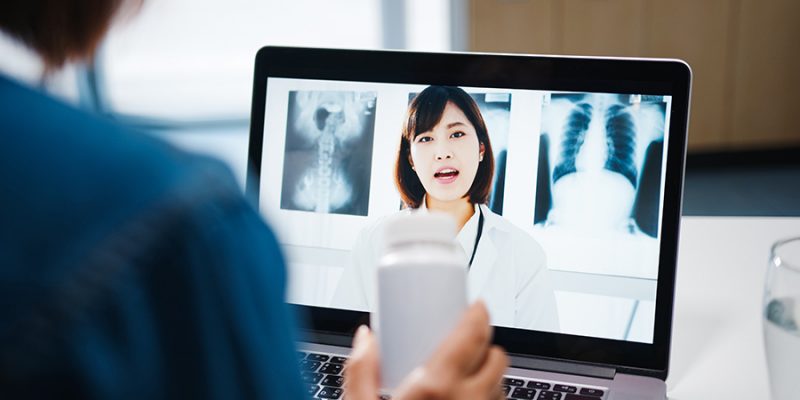 Telehealth trends and predictions leading healthtech 2022 to a new horizon of trouble-free healthcare.
The digital transformation that occurred in the healthcare industry has been significantly catalyzed by Covid-19 and the worsening of the non-covid patients in the wake of hospitals getting overwhelmed by Covid infection has left no choice to healthtech but to upgrade to telehealth. Telehealth is the provision to consult a healthcare practitioner over the digital media, furthermore, it also facilitates treatments and diagnosis lately using telecommunication applications. Remote healthcare was the only way out of the confinement caused by Covid appropriate behaviours. Subsequently, this rapid transformation has landed healthcare experts to contemplate telehealth in 2022. Eventually, some top telehealth trends and predictions are gaining strong ground even in the closing scenes of 2021.
Internet of Medical Things (IoMT) and Wearables
The use of IoMT and healthtech wearables have aided remote healthcare to implement greater effectiveness. As per the telehealth trends and predictions go, these applications are going to witness maximized employment because of its ability to connect patients and doctors from distant locations. The devices help in tracking patient conditions manifesting AI-powered mechanisms that give detailed records of patients and manage patient data from remote locations.
Remote Patient Monitoring (RPM)
Telehealth in 2020 will be highly dictated by the integration of RPM. Online appointments and consulting doctors over the video conferencing applications have become the best practice to avoid unnecessary contact with transmissible diseases while waiting in the doctor's chamber. The contribution of telecommunication in RPM is far and wide with respect to benefits that it yields today.
Virtual Reality (VR)
Healthcare training and education will see a surge in AR and VR adoption as surgical methods are best explained when demonstrated in real life. And it is even more comprehensive when the students learn it through an immersive telecommunication network. Real-life case visualization will extensively help students to realize their role in the telehealth world.
Robotic Process Automation (RPA)
According to experts, the telehealth trends and predictions the employment of Robotic process automation will gradually be adopted in telehealth in 2022 as they start to convince more and more healthcare professionals with its efficacy. RPA applications are highly empowered with accurate, cost-efficient technologies. Optimizing staff and allotting placements is another most used operation of RPA by now. However, telehealth in 2022 will witness scanning patients more closely and accurately followed by recommendations based on their diagnosis.
Sustainable Medical Care
Recent environmental concerns have left healthcare to re-consider the production of harmful chemicals to make pharmaceuticals. Similarly, facilitating rapid supply chain movement through other digital applications without much of a physical burden to bear, furthermore, also to limit more air pollution and other pollutants that are caused by human movement, telehealth in 2022 is going to be widely used. This will significantly bring down the paper wastage and pollutants caused due to transportation.
Lack of Human Resource
As a result of the Covid pandemic appearing in new strains and forms, there will still be a hesitation of workers and labourers migrating back as the last year has witnessed alarming scenes of migrant workers. Therefore, it will take immense effort to bring them back and train them with the rapid digital transformation and make them familiar as the leap has been inevitable and their absence has been prolonged. Subsequently, managing the workforce in healthcare particularly will be an issue as telehealth in 2022 will continue.
Upgrading Treatments For Non-Transmissible Diseases
The current year and the last year have seen catastrophic management of non-covid patients, especially those suffering from chronic illnesses and regular checkups are necessary. Thus, remote healthcare is expected to provide immediate care to the patients without their vulnerability to step out of the home. Telehealth trends and predictions also entail the possibility of delivering more value than volume.
High-End Safety and Security
Besides, cybersecurity being in place, telehealth trends and predictions of 2022, also reveals the urgency for drawing robust safety measures. In this effort to create more health security, healthtech will be used enormously. For example, to monitor patient recovery, genome sequencing, any break out of sensitive information or even virus prone substances from the laboratories.