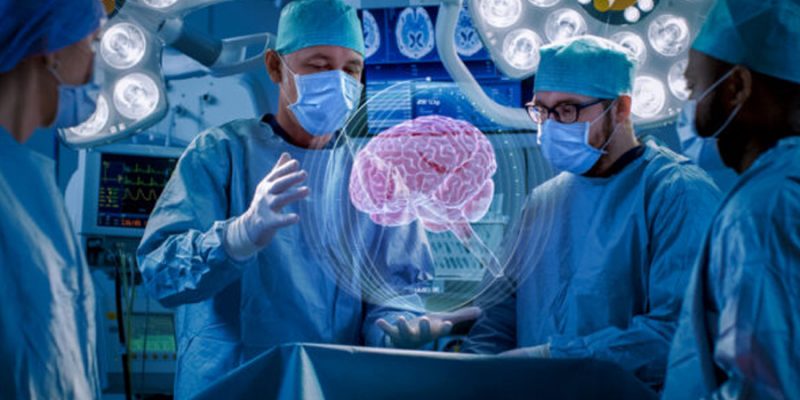 With the help of AI and Machine Learning in Healthcare, Augmented Reality and Virtual Reality is revolutionizing the Medical world.
Augmented Reality and Virtual reality are two immersive technologies that are built using Artificial intelligence and Machine learning that have the potential to revolutionize the Medical and Pharmaceutical industry.
New physicians are able to practice surgery without having to actually operate on a patient. Doctors are able to explain the procedure more effectively to the patients and minimize the risk of invasive surgery.
Some companies actively working on it are:
1. FundamentalVR: It is an immersive technology (XR), haptics, and machine learning business with a comprehensive IP portfolio. Immersive technology, we believe, has the potential to forever revolutionize the human/computer interface, transcend borders, and speed business. The Haptic Intelligence Engine is at the heart of the FundamentalVR tech stack. With HapticVR, they can speed up skill learning, reduce cognitive burden, and provide considerably improved user experiences. This capacity has been verified to promote skill development by allowing surgeons to gain genuine muscle memory within the medical education platform Fundamental Surgery.
2. Augmedics: It is a Chicago-based firm, that promises to enhance healthcare by enhancing surgery with cutting-edge technologies that address unmet clinical requirements and increase surgical workflow technical trust. The company's groundbreaking x-vision system, the very first augmented reality guidance technology used in surgery, enables surgeons to see the patient's anatomy under skin and tissue-like they had "x-ray vision," allowing them to guide tools and implants more correctly during surgeries.
The x-vision Spine system (XVS) from Augmedics is the first augmented reality (AR) navigation system that is used in surgery. xvision Spine allows surgeons to see their patients' 3D spinal anatomy as if they had "x-ray vision" during surgery, allowing them to move tools and implants more precisely while looking directly at the patient rather than a TV.
3. EchoPixel is dedicated to developing technology that will revolutionize patient care and enable precision health. The software platform of this company is the first holistic solution that allows doctors to create a digital twin of a patient with normal medical photos and interact with it in 4D.
4. Health Scholars is dedicated to assisting staff in providing the finest care possible on a person's worst day. With virtual reality, one can train the providers to be extremely resilient, risk-averse, and procedural masterminds. The objective of the company is to expand healthcare simulation through virtualization, making experience-based training accessible, scalable, affordable, and measurable for public health and safety workers to assist reduce medical errors and increasing patient safety.
5. The interactive surgical simulator Touch Surgery gives a realistic guide to surgical and medical processes, allowing trainees to learn procedures, verify their knowledge, and practice for surgery. The app has approximately 3 million users worldwide. Independent academic investigations have confirmed its educational and training effectiveness.
6. Touch Surgery Enterprise is a video platform for hospitals that allows them to view surgical videos and data securely and seamlessly. It includes the DS1 Computer, the world's first surgical video recorder with real-time AI, which redacts crucial frames in surgical recordings automatically.
7. ImmersiveTouch is a leading, FDA-cleared platform that turns 2D medical images into 3D spatial models, allowing surgeons to plan, train, and collaborate more effectively. Virtual Reality has been shown in studies to reduce surgical risk. Their technology gives realistic surgical simulations to the next generation of surgeons. These 3D spatial representations can be viewed using virtual and mixed reality devices, allowing each patient's anatomy to be thoroughly examined and engaged with before the treatment.
8. Osso VR is a surgical training and evaluation platform that allows medical device firms and healthcare professionals to share, practice, and acquire new skills and procedures in a whole new way. From unusual to common, basic to complex, there's something for everyone.
9. At Taipei Veterans General Hospital, Medical Augmented Intelligence (MAI) created a 3D VR recreation of an actual patient's CT and MRI images for pre-operative skull base surgery planning. This allowed the surgeon to better visualize the lesion's location and practice surgical operations in a virtual reality environment before performing the operation. The surgeon also used BodyMap, MAI's main product, to teach anatomy to interns and residents. BodyMap, a medically accurate VR anatomy and simulation training software program, AcuMap, a visually immersive VR acupuncture learning and simulation training application, and DigiTwin, a comprehensive medical 3D imaging tool are among the VR applications offered by Medical Augmented Intelligence (MAI).
10. SentiAR CommandEP is a 3D interactive interface developed to assist clinicians during cardiac ablation operations.