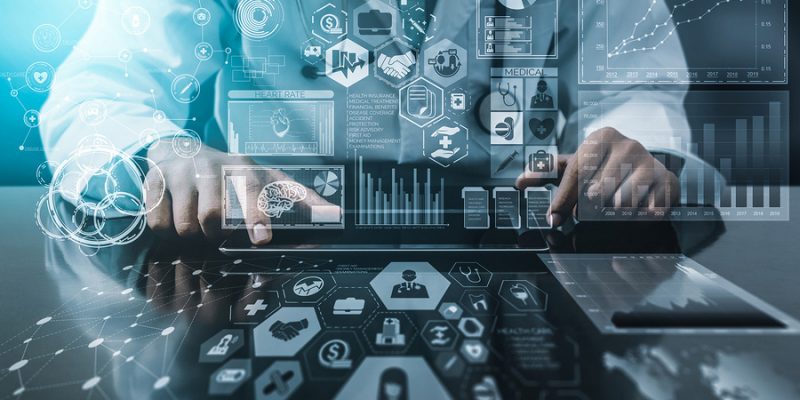 Data Science projects in the healthcare industry allow you to show the world what you can do—how you can add more value.
Observations, interactions, and the feedback loop in between are the most effective ways for the human brain to learn. Doing things oneself, especially, while learning data science, results in rich experiences and observations, resulting in a long-lasting learning opportunity. One can create various Data Science projects in the Healthcare industry with the help of Artificial Intelligence and Machine Learning.
The majority of learning data science is from "performing" data science projects; it aids in the development of deeper knowledge, greater recall, and understanding of "real" data science challenges, as well as honing your technical abilities in general. Data science projects for predictive and treatment analysis, image recognition, and more can boost the CV for a job as Data Scientist.
1. Medical Imaging
Medical imaging is the most common application of data science in the health industry. X-rays, MRIs, and CT scans are examples of imaging techniques. Tiny defects make it complicated for doctors to provide an accurate diagnosis. Deep learning tools in data science have made it possible to detect these defects in scanned photos. It is feasible to search for faults in scanned images by using image segmentation.
2. Smartwatch
Smartwatches provide features that track daily fitness activities. The information these watches provide about one's health isn't 100 percent correct, but it's close enough to be trusted. Some smartwatches, such as the Apple Watch, are so precise that they might even forecast when the wearer is about to have a heart attack. As a result, wristwatch data analysis is an excellent project concept for demonstrating a data science application in healthcare on the CV.
3. Genomics
Genomics is the science of sequencing and analyzing genomes. A genome contains the DNA and all genetics of the organisms. Since the completion of the Human Genome Project, research has progressed at a breakneck pace, into the domains of big data and data science.
The purpose of research scientists is to examine genetic strands and look for flaws and anomalies. Then they look for links between genetics and a person's health.
4. Prediction of Heart Failure
Cardiovascular disorders are responsible for over 17.9 million deaths globally. One of the most prevalent complications of cardiovascular illness is heart failure. It's one of the factors why heart failure forecasting is one of the most often used data science applications.
5. Drug Development
Drug development is a complex field to master. Pharmaceutical companies rely significantly on data science for addressing issues and providing better treatments for patients. Drug development is a time-consuming procedure that also necessitates significant financial investment and extensive testing.
This method is being revolutionized by Data Science and Machine Learning algorithms that offer substantial insights into improving and boosting the success rate of forecasts.
6. Disease Monitoring and Prevention
Data Science is critical in keeping track of patients' health and alerting them to the activities that need to be taken to prevent diseases from developing. Data scientists are employing sophisticated predictive analytics to identify chronic diseases early on.
Researchers at the Brazil's University of Campinas have built an artificial intelligence platform that can detect Zika infection using metabolic markers.
7. Depression, Anxiety, & Stress Prediction
Depression is characterized by a persistent feeling of sadness, anxiety is characterized by a concern that something horrible is about to happen, while stress is characterized by a prolonged feeling of pressure. It's difficult for healthcare experts to figure out how someone they've just met feels. The Depression, Anxiety, and Stress Scales (DASS) are utilized for this purpose. 
The DASS is a set of questions concerning a person's mental health that can help healthcare providers figure out how they're feeling. On Kaggle, you can find the very same 172-question dataset of almost 40,000 replies. This database can be used to develop predicting models to assess a person's feelings.
8. Assistive technology
Data scientists have created a comprehensive digital platform that offers assistance to patients using disease predictive modeling. A patient can use these platforms to input his or her symptoms and receive information on numerous possible ailments based upon the confidence rating.
9. Keeping an Eye on Patients' Health
In the Internet of Things, data science is critical. These IoT gadgets, which are available as wearable devices, monitor the user's heartbeat, temperature, and other medical indicators. Data science is used to analyze the data that has been acquired.
10. Forecasting Covid-19 cases and fatality rates over time
This study entails a time-series analysis of data connected to Covid-19. Time-series analysis is an excellent skill to have in your machine learning toolbox. The major goal of this study is to figure out how covid-19 cases are evolving in each location separately, then on a global basis as a whole.
So there you have it, some of the top data science projects in the healthcare industry. If you want to work as a Data Scientist in the healthcare field, you should first learn how to work with data and then work on data science projects in the field.