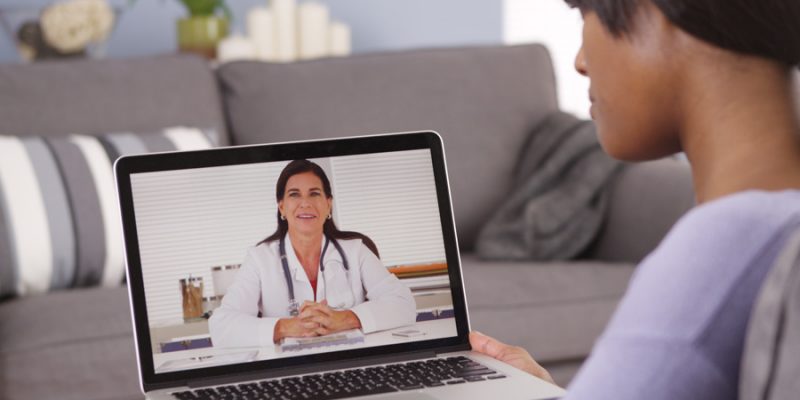 How is Remote Patient Monitoring moving into the mainstream healthcare organizations, especially after the COVID-19 Pandemic?
The COVID-19 epidemic has unquestionably propelled telehealthcare into the mainstream of medicine. Remote patient monitoring or RPM is one area of healthtech that has witnessed significant growth in the last two years.
RPM aids healthcare during a pandemic by allowing patients to be observed, cured, and taken care of at home in institutions that are already overburdened. RPM has also cut down on the length of time patients have to spend in circumstances where the COVID-19 virus can be spread and transferred.
Further than the pandemic, RPM can keep patients at home, away from the high-cost environment of a hospital, where they will be happy, thus enhancing the patient experience and lowering expenses. The epidemic hastened the deployment of remote patient monitoring in healthcare, and many feel that it will be around for a long time.
What is Remote Patient Monitoring?
Personal health and medical data are collected from an individual in one area and communicated to a provider in another location using electronic communication technologies for use in care and related assistance. Vital signs, weight, blood pressure, blood sugar, blood oxygen levels, heart rate, and electrocardiograms are just some of the health data that monitoring programs can capture at the point of care. The information is subsequently sent to health care providers in places like primary care monitoring centers, hospitals, intensive care units, skilled nursing institutions, and centralized off-site case management programs. This type of service lets a clinician keep track of a patient's health data after they've been discharged from the hospital or a care facility, lowering readmission rates. Monitoring programs can also help people stay healthy, allowing seniors and disabled persons to spend more time at their own homes and preventing the need for professional nursing care. RPM can also help reduce the frequency of hospitalizations, readmissions, and duration of hospital stay, all of which contribute to a better quality of life and cost containment.
How is it moving into the Mainstream Healthcare Organizations?
The advantages have been documented in various researches. In a Dutch trial, individuals with rheumatoid arthritis were given access to an eHealth or telecare platform and a self-management outpatient clinic (RA). This study discovered that using remote monitoring in the real world can reduce the frequency of hospital visits while maintaining illness control. RPM has been shown in another study (done before Covid) to reduce the usage of acute care for cardiac and COPD patients.
RPM can be pushed into the mainstream of healthcare by three things. These include recognizing the importance of innovation, addressing challenges, and collaborating around the patient's requirements.
Recognize the importance of RPM: First and foremost, healthcare providers must recognize the importance of RPM. The clinical dataset for RPM was in its infancy before Covid. It is still the case. The pandemic, on the other hand, has created a plethora of opportunities for active implementation and research. Some new technology like Enovacom is being used to share data across home and hospital systems. This gives us a starting point for identifying the real-world benefits of RPM.
Address the problems: Second, deal with the difficulties that RPM brings. Take, for example, data integration. RPM has the potential to open a flood of new data, allowing doctors to gain a better understanding of their patients' health. However, the lack of standardization between electronic health records and the numerous devices used in primary, secondary, and tertiary care settings can be a significant impediment.
Collaborate: Third, health and care providers must interact both inside and externally to address these obstacles. To improve care workflows across businesses, a multidisciplinary care team must come together. Technical teams must collaborate to create a digital framework that identifies the data access, storage, and interoperability requirements. Partners can aid in the unlocking of data kept in a range of systems and devices. Collaboration like this can enable care teams to integrate data into redesigned, patient-centric operations that can improve clinical outcomes.
The advantages of RPM cannot be realized without interoperability.
Interoperability is helping healthcare professionals monitor their patients' conditions in organizations globally. Good interoperability frees up time and resources for medical teams to focus on what they do best: caring for patients. It also ensures that all those authorized to utilize this precious asset to provide care can share patient data safely and reliably.
Interoperability is more than a buzzword. It serves as the basis for a multidisciplinary, collaborative approach to health and treatment that can benefit patients and employees tremendously. Working with people, processes, and technology to offer real-world evidence of RPM's influence on each individual's health and wellbeing is key to making the most of RPM.
RPM is gaining traction in the healthcare industry. RPM and wearables can bring fresh insights into this, and it is expected to become a normal element of care delivery as a result, spanning from preventative approaches to the management of more complex disorders. There is no going back once organizations and individuals understand the importance of this data.