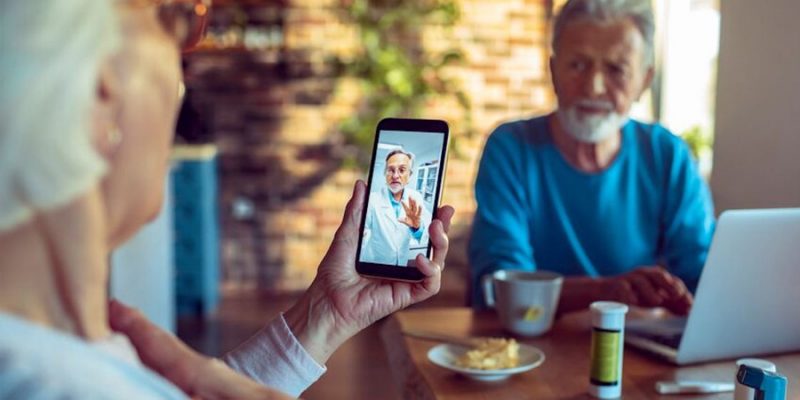 Since the inception of Covid-19, medical professionals and the general public have been quickly adopting senior health trend solutions
Health-tech tools are virtual aids that are made available to the general public for them to profit from them during tough times. While the rest of the world is going digital, the healthcare business isn't far behind. The public finally grasped the usefulness and necessity of health tech services after the outbreak of Covid19. Seniors utilized video calls to contact family members during lockdowns, while telemedicine allowed them to consult with doctors from their homes. Seniors today are more tech-savvy than prior generations, which will influence how they interact with healthcare in the future. The following are the important eldercare trends for 2022:
With the use of IT tools and software, AI in healthcare is extensively utilized to diagnose different diseases such as cancer, Aids, mental disorders, renal difficulties, chronic heart diseases, and so on. MRI, ECG, MEG, CT scan, ultrasonography, x-rays, laser therapy, and other AI techniques are used to identify, monitor, and assess disorders and the body's well-being. GNS Healthcare, IBM Watson, which gives 99 percent accuracy in cancer detection, and Google's 'DeepMind,' which has integrated artificial intelligence and mobile applications providing virtual healthcare services to patients, are some of the most popular examples.
Hospitals-at-Home Model
As virtual care technologies become more commonly used, hospital-at-home is becoming more popular in healthcare, allowing seniors with acute diseases to get treatment at home. According to an AARP poll conducted in 2018, 76 percent of seniors aged 50 and above choose to remain in their current residence rather than migrate to an independent living facility. According to the American Hospital Association, the hospital-at-home care delivery model lowers costs, improves results, and improves the patient experience.
Telemedicine
Telemedicine is another well-known health-tech technique. During the Covid 19 outbreak, the usage of telemedicine has skyrocketed. Through phone conversations, email, smartphone applications, and even video conferencing with health care specialists, it is making a constructive contribution to healthcare. The telemedicine sector has reduced healthcare costs, improved efficacy, and improved patient access to healthcare services.
Internet of Medical Things
IoT refers to a group of medical devices, equipment, and infrastructure-enabled applications that use internet computer networks to link to healthcare IT systems. This enables machines to connect across the internet. Patients with chronic diseases are monitored, prescription records are tracked, the location of the hospital where the patient is hospitalized is tracked, and the patient's mobile can communicate information to caregivers are all examples of IOMT.
Organizations will Create Tech Concierge Roles to Assist Seniors
During the epidemic, older individuals' tech ownership, adoption, and use rose, with over half of those polled by AARP saying they utilized video chats more than previously. Seniors are utilizing more technology than ever before, thanks to an increased usage of messaging, email, cellphones, and wearable gadgets. This trend is expected to continue. Increased technological use, on the other hand, can add to the workload of independent living facility employees, who are often called upon to fix problems.
3D Bioprinting
3D bioprinting is utilized to create biological tissues and cells to investigate the disease's genetic foundation. It makes a three-dimensional item by layering basic elements including metals, polymers, and ceramics. Printing lightweight prostheses, bionics, and casts to mend fractures are among the most common applications. This has shown to be quite helpful in identifying disorders like cancer and tumors. Before operations, 3D scanning and printing technologies such as 'Axiom' and 'Graft 3D' were utilized.
Nanomedicines
Nanomedicines are a type of medicine that utilizes nanotechnology, i.e., the creation of devices and equipment with a diameter of 1 to 100 nanometres for disease prevention, diagnosis, monitoring, therapy, and regeneration of biological systems. It aids in the distribution of drugs throughout the body. Nanorobots are now available for drug delivery and monitoring after the medicine has been injected into the patient's body. This has become very useful for senior care.
Consumerization Will Give Seniors More Control Over Their Health
Consumers now have access to health data thanks to wearables and apps. The Cures Act Final Rule, issued by the Office of the National Coordinator for Health IT, will force healthcare companies to give individuals all of their health information beginning next year, resulting in increased patient engagement in healthcare. This trend will provide older persons with more information and enable them to participate in health decision-making.
Mobile Health
The use of mobile communication devices including phones, laptops, smartwatches, and other wireless technologies for health-related services, information, and data collecting is referred to as mobile health technology. Illness monitoring, treatment assistance, medical record tracking, and chronic disease management are some of the other applications of mobile health. Educating people about preventative healthcare services is one of the most popular applications of mHealth.
Cloud Computing
Cloud computing in healthcare is highly used for storing huge data and processing power of data analytics at a lower cost for the health care industry. It helps in keeping large documents such as medical records, medical histories of patients, laboratory results, and diagnosis reports. It ensures proper security, data backup and recovery, data interoperability, and greater storage management capabilities. This helps the citizens to connect to the doctors easily.