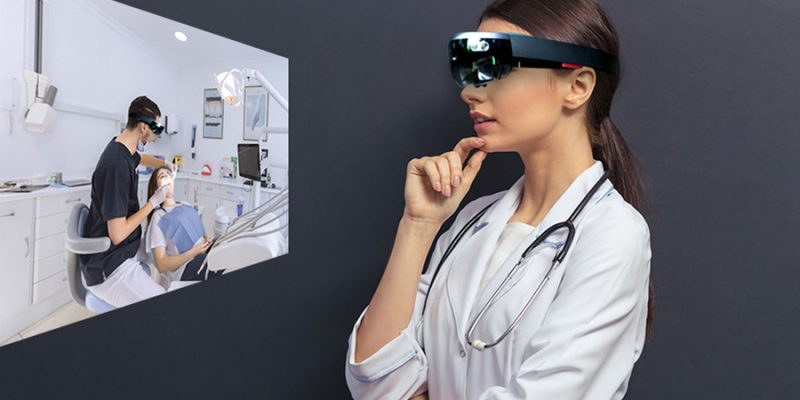 As VR and AR are developing, mixed reality (MR) is becoming more prevalent in the field of healthcare.
The golden grail of communications technology has long been virtual reality (VR) and augmented reality (AR), which enable us to virtual experience being there while simultaneously seeing, hearing, and sensing things practically. Over the past two decades, there have been several attempts to make mainstream VR a success, with the most current attempt being the metaverse, which was just revealed. However, mixed reality (MR) is starting to make a name for itself in the field of medical education.
Medical students are using HoloScenarios, a revolutionary technology developed by the tech firm GigXR, to get experience in real medical situations. For instance, students can act out a situation in which they must accurately identify a patient who has respiratory problems. However, why is MR usage growing? In the field of VR, haven't we recently made great strides? Yes, but there's still a long way to go. According to GlobalData, enterprise-level VR is expected to explode in the next years, increase at a startling 33 percent compound annual growth rate, and generate an astonishing $22 billion in revenue by 2030. This is because VR can imitate complicated, expensive, or uncommon situations or things, enabling technical staff and salesmen to work with and learn from a model without ever having to travel to the actual location. However, a GlobalData analysis claims that the cost and accessibility problems with VR still exist and that prolonged use of the technology may "cause accidents and produce sickness."
Why is MR so fantastic, then? It immediately avoids many of the issues that standard VR suffers since it is "mixed," like motion sickness and bumping against walls or furniture. This makes it possible for MR to make use of all the benefits of VR technology while avoiding the drawbacks. Consequently, MR has a significant probability of catching up to and maybe even exceeding VR technology in the healthcare industry.
What is mixed reality in healthcare?
Operating rooms, clinics, hospital wards, and settings for medical education are all utilizing mixed reality to speed up diagnosis, increase access to healthcare, cut down on infection transmission, enlighten, and, most importantly, enhance results. New avenues in healthcare are being opened by its capacity for remote consultation and treatment as well as the use of methods like the holographic overlaying of pictures and data onto actual, in-the-moment scenarios, including surgical procedures.
Surgery calls for a high degree of precision, attention, and analytical skills from the surgeons. While performing procedures, they must consider a variety of factors to make the best choices. And the window of opportunity that doctors have to save a patient's life is occasionally only a few seconds. Mixed reality is being utilized in the healthcare sector for the first time to provide operating surgeons with crucial information through a hands-free interface. Healthcare providers may simplify medical procedures and keep patients safe by using mixed reality. One of the important industries for the adoption of MR is healthcare, which includes training for robots and experts, phobia therapy, and surgical simulation.
Instantaneous diagnosis
Virtual reality (VR)-based immersive visualization is already used in the healthcare sector. Other VR applications allow medical professionals to see medical imaging in three dimensions. They consequently comprehend the patient's medical state in great detail. By merging its development into mixed reality, the use of augmented reality in medical diagnostics is providing the sector with real-time visualization capabilities.
Enhanced medical education
Virtual reality is available to help medical students experience ideas like the virtual portion of the body because it has been discovered that traditional teaching techniques are boring and ineffective for them. There are already augmented reality-assisted operations available as far as augmented reality's applications in healthcare are concerned. The first surgical augmented reality technology adds a 3D model so the surgeon may view the patient's anatomy, skin, and tissue through his beam vision. A holographic augmented reality platform that a digital healthcare startup has created gives surgeons access to patient data and visualizations while they do surgery.
Imaging-assisted surgery
Using mixed reality allows physicians to execute surgery more accurately than they could with traditional methods. Using MR equipment can provide surgeons access to real-time data on a patient's physical condition as they do the procedure. This is so that a patient can have a thorough understanding of their physical state in all three dimensions using a mixed reality system. When doing operations, this type of setup provides surgeons with the exact information that enables them to make better-educated decisions that might potentially save the patient's life. This finally results in a high rate of success while carrying out difficult procedures.
Enhancing patient comfort
The development of a doctor-patient connection is a crucial component that contributes to their mutual trust. Only when physicians communicate in a clear, succinct, and effective manner will patients be able to trust them. Additionally, mixed reality contributes to its more immersive establishment. For greater comprehension and clarity, doctors find that providing detailed explanations to patients is helpful. Reduced reaction times and increased surgical precision are two benefits of using MR in the healthcare industry. This finally results in efficient treatment and a positive patient experience.
Healthcare professionals' empowerment
By accelerating the diagnostic process, simplifying treatment time, enabling individualized patient experiences, and enhancing outcomes, mixed reality helps healthcare professionals to rethink and revitalize the healthcare sector. The spike in clinical research demonstrating effective mixed-effects patient therapy creates favorable patient and healthcare professional reactions and is anticipated to drive market expansion. Sales growth will improve throughout the projection period due to increasing research efforts and studies that point to the utility of mixed reality in treating some conditions, including pain management and mental health.