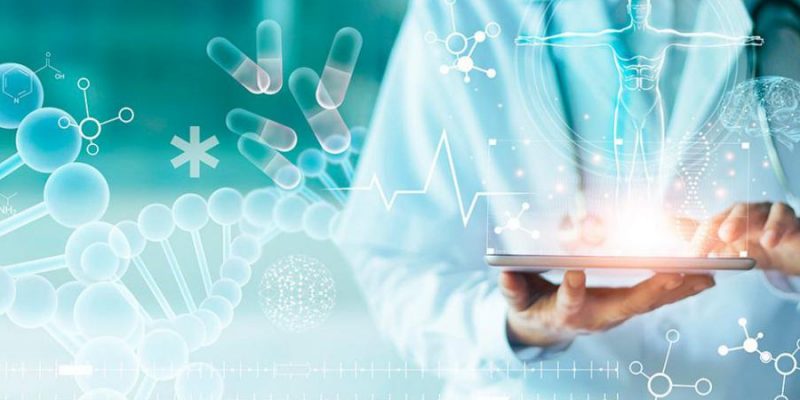 Effective application of AI in healthcare is encouraging Indian start-ups to come up with innovations, for increasing the productivity of the health care sector.
There is a huge importance of artificial intelligence in the healthcare sector. With its increased productivity and efficient care, it has gained popularity among people in a very short time. Health tech has increased the expectations of people to remain healthier and longer. Over the last decades, the demand for AI in healthcare has also increased. Earlier due to the unavailability of health tech facilities in India, people went to other countries for their treatment. But things have completely changed now. A lot of Indian healthcare start-ups are coming up with exclusive AI tools for treatment and better patient care.
Here are a few top healthcare start-ups in India advancing healthcare with AI:
Niramai Health Analytix
Niramai is a Bengaluru-based healthcare start-up founded in 2016. It was founded by Geetha Manjunath and Nidhi Mathur. They mostly deal with female health care especially, to protect them from breast cancer by use of the radiation-free, non-invasive system. It allows for earlier detection of cancer in its initial stage to filter breast cancer performing it at a lower cost. It used artificial intelligence and thermal sensing for detection and testing.
Qure. AI
Qure.ai is a Mumbai-based healthcare start-up. It was founded by Prashant Warier and Pooja Rao in 2016 to use AI to make health care facilities more affordable and accessible. To detect diseases, they use deep learning algorithms to interpret and radiology images and scans– chest X-rays, head CT scans, POQUS, chest CT scans, etc within a couple of seconds. It also has community solution programs for Covid19, public health, and tuberculosis where they educate people and encourage them to contact them for any health-related issues.
Oncostem
Oncostem was founded in 2011 to use machine learning algorithms to assist in personalized cancer therapy. They used a Genomics-based platform, Proteomics, and tools associated with a molecular fingerprint of a tumor to predict cancer recurrence. This helps them in making medicine, a solution called 'CanAssist-Breast'. This helps to cure down breast cancer and to anticipate the probability of cancer coming back by analyzing samples of the person's tumor. It also aims to offer research that could help develop new cancer treatments including colon and oral.
Artelus
Artelus is a Bangalore-based healthcare start-up founded in 2015 by Pradeep Walia, Raja Rajeshwari, and Lalit Pant. It has various AI-based healthcare equipment that can record retina image, analyze it within 15 seconds, and shows the result with 93% accuracy. They use deep learning technology for diabetic retinopathy screening and then review the images for diagnosis. The deep learning techniques to reported to be 93% accurate and the company has received several awards for this work.
Chironx
ChironX is a deep tech healthcare start-up solving health care diagnostics using AI and data science. It aims in making AI make fast, efficient diagnostics from photographs. It helps in detecting several retina disorders simply by analyzing photographs. They aim to reduce the time and cost of diagnosis with an image processing algorithm.
Doctalk
Doctalk is a Mumbai-based healthcare was founded by Akshat Goenka and Vamsee Chamakura in the year 2016. It uses several healthcare software applications to track patients' health, keep a look at the medical reports and prescriptions, easily share them with doctors, provide feedback to the patient and suggest treatments. They also allow subscribers to book an appointment and talk to the doctors virtually.
Tricog
Tricog is Bangalore based healthcare analytics company founded by Dr. Charit Bhoraj, Udayan Dasgupta, Zainul Charbiwala, and Abhinav Gujjar in 2015. It is India's first cardiologist-certified ECG solution. They deal with reducing the possibility of heart attack and heart complications in patients. They use AI-based technology to fast, affordable and accurate diagnosis, which may result in considerable mortality reduction. Their assistance includes InstaECG and InstaEcho.
Pharmeasy
Pharmeasy is a Mumbai-based healthcare start-up co-founded by DharmilSheth and led by Bessemer Venture Partners and Orios Venture Partners. They aim at providing medicines at a very affordable price by optimizing the source chain and logistics and now offer much more than one lakh families. They use AI-based technology to link patients, doctors, analysis centers, and healthcare services and enable them to work together and connect patients with numerous pharmacies across cities, villages, and towns across the nation.
HealthifyMe
Healthify me is a Bengaluru-based digital health and wellness platform founded by Tushar Vashisht, Sachin Shenoy and Mathew Cherian founded a company intending to introduce digital healthcare in India. It utilizes an AI-based virtual assistant 'Ria' that stays connected to the users. It solves various queries of patients related to fitness, nutrition, health care in 10 different languages. It also provides dietary advice and used AI to track calorie intake and provides health tips.
Lybate
Lybate is the first online medical consultation platform founded in 2014. This is very helpful for people who live far away or cannot travel across places for medical purposes. Through lybate people can connect, book appointments with the doctors, have online consultations, book lab tests. Other than this Lybrate also provides weight diet, fitness, skin, and hair care solutions. The main aim of this platform is to make virtual healthcare available to all people across the nation easily.