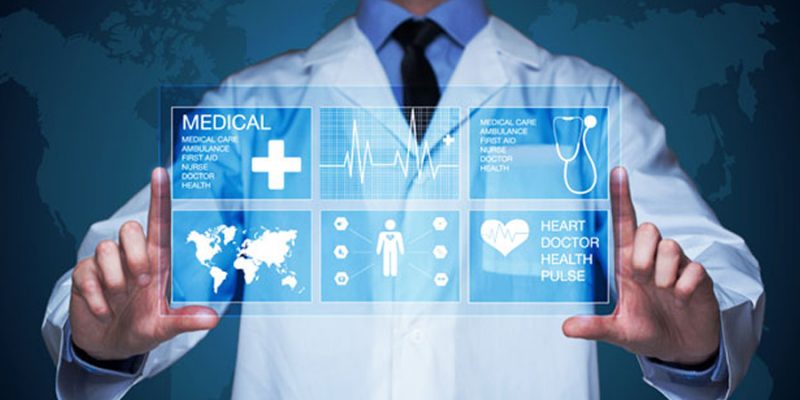 The Internet of medical things changing the dimension of healthcare by improvising new technologies and AI tools in healthcare.
Internet of medical things (IoMT) refers to the usage of medical devices, applications, and the internet that connect people with medical professionals through IT system and computer network. This field has gained widespread popularity in the field of healthcare due to its multiple-use technologies like ubiquitous computing, commodity sensors, embedded systems and machine learning. Sometimes medical facilities become out of reach of people, this is when IoMT come into play. Technology cannot stop the population from ageing or eradicating choric diseases but it can make healthcare accessible to people at low cost. With the use of health tech, there are several benefits to improve the quality and efficacy of treatments to function more competently and patients to obtain better treatment.
How is IoMT Used?
IoT consists of 4 basic stages. All these stages are interconnected.
All the IoT devices used in medical sectors are interconnected by sensors, cameras, detectors, actuators, etc for collecting data.
The sensors are used for collecting data through analog form and then it is converted to digital form.
After the data has been processed, they are then stored on cloud platforms.
These stored data are then examined by advanced analytic services and the reports are sent to the doctors for making effective treatment plans.
Benefits of IoMT:
Monitoring of patients
The device that is connected for health monitoring can be very useful during the emergency like heart failure, asthma, diabetes, etc very systematically. With real-time health monitoring connected to a smartphone help collect medical and other required health data. then they use the data connection of the smartphone to transfer collected information to a professional or store to a cloud platform. IoT devices help in collecting and transferring data like blood pressure, sugar levels, weights, and ECG for laboratory tests and send the reports to the doctors directly regardless of the place, time and device. Regular monitoring through such devices also helps patients to reduce the length of hospital stay and prevents re-admission resulting in reduced healthcare costs and improving treatment outcomes.
Tracking patients
IoMT devices help in detecting and monitoring patients. It helps the doctor to provide customized healthcare for patients with chronic diseases. Devices like smartwatches and fitness bands help to track the sugar level, oxygen, calories burnt, steps covered, pressure level, and so on. If faced with any major problem, it also transfers data to doctors for real-time tracking while providing feedbacks via mobile apps and smart sensors. Thus, IoT allows real-time alerting and monitoring of patients by providing on-time treatments. These devices are also used to set reminders for taking medications, exercises check, intake of water, and appointments.
Providing medical assistance at a low cost
IoT helps in effective patient care both at home and in the hospital. Patients who are already discharged from the hospital can contact professionals through mobile applications for regular health check-ups and updates. IoMT devices also help in detecting chronic disease at earlier stages and assist for the same. IoMT devices allow storage of reports to the clouds platforms for doctors' later reference and make treatment plans accordingly. IoMT devices use many advanced technologies to empower healthcare at a very affordable rate by cutting costs of unnecessary visits and treatment package. It also utilizes quality resources through mobile apps by improving allocation and planning.
IoT for medical professionals
IoT enables the doctor to keep a check on the patients regularly and effectively. They can keep a record of patients' treatment plans and requirements of any immediate medical assistance. IoT allows professionals to become more watchful and connect with patients proactively. IoMT devices are used to store a huge amount of data and make it accessible for doctors whenever needed. These data include patient's reports, records, prescribed treatments, etc. IoMT allows the collection, report and analysis of real-time information segregated according to the treatments patients are undergoing. This helps the healthcare organization for better decision-making with fewer errors. IoT devices also come with sensors that are used for monitoring medical equipment like oxygen cylinders, wheelchairs, nebulizers, etc.
More accuracy, minimum errors
IoMT devices are very accurate in their approach. If anything goes wrong somewhere then it might be due to wrong data or mismanagement of the apps. Wrong management of data has always been a major source of error in the healthcare industry. IoT devices also help in reducing errors by offering proper data analysis to both doctors and patients.
More than 70% of healthcare organizations in India have already adopted Internet of Things technologies. It is expected to grow more than 20% by 2023. This shift in the paradigm of the healthcare sector with help of advanced technologies is providing benefits to both the professionals and patients by providing healthcare facilities accessible to people at a lower cost as well as reaching remote areas of the country.