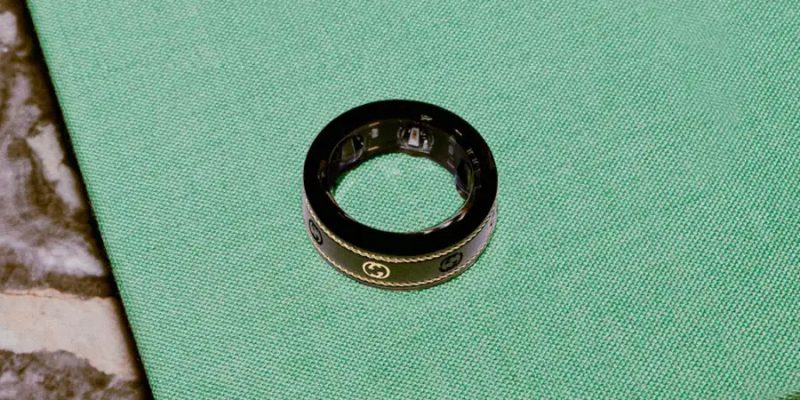 Gucci's Oura Ring elevates wearable biometrics to a new level of elegance.
Gucci has collaborated on a new smart ring with OURA, a health tech startup. The Gucci x OURA ring has Generation 3 technology as well as a variety of "advanced sensors" that monitor everything from heart rate to stress. The appearance of an interlocking G in 18 karats yellow gold is noteworthy in terms of design. The ring is now available for purchase and is priced at $950 on the Gucci website. The ring is enhanced by the OURA app experience in addition to its monitoring capabilities. OURA Health, which was formed in 2013, is most known for developing the first Oura Ring smart ring gadget, which made news in 2020 owing to its use during pandemic fears.
The health tech business, which is best known for its smart ring that analyses everything from general fitness to sleep habits, has announced its first premium fashion collaboration with Kering-owned Gucci. Oura originally released its smart ring in 2016, and since then, it has released four different models. The company's fourth offering is a ring with a Gucci partnership. It primarily focuses on compact wearable devices, attempting to cram the capabilities and functionality of larger wearable devices into a small package.
It's the latest attempt by the wearable tech startup to make its product more appealing to fashion-conscious customers. Oura released a limited edition yellow gold ring in 2020, which retailed for $399. Apple now dominates the smart accessory industry, leveraging the power of luxury brands to help increase its cool factor (the tech giant has long-running cooperation with Hermès on a special co-branded edition of the Apple Watch).
All about the ring
The ring is composed of titanium and weighs barely 4 grams, with an 18-carat gold interlocking double G monogram. It is fitted with sensors and components used in medical research to monitor the body's primary health markers and contains oura's newest Generation 3 technology. The smart ring is only 4 to 6 grams in weight and can track temperature, heart rate, sleep activity, and other factors. The ring is also water-resistant to a depth of 100 meters. The ring is compatible with Google Fit and Apple Health apps, providing detailed information about your health. The ring, of course, is powered by a battery that lasts between 4 and 7 days.
How does the ring work? 
"The state-of-the-art sensors in the Gucci x Oura ring monitor heart rate, respiration rate, and body temperature, tracking the effects of stress as well as the presence of any ailments." The ring catches a considerably more strong pulse signal than wrist wearables because it measures heart rate from the arteries in the finger. "Every day, these personalized metrics produce a score quantifying Sleep, Activity, and Energy, whose status can be checked in conjunction with tailored insights and advice," the partners said, adding that "the ring's sleep monitoring functionality analyses sleep quality based on the main body parameters during each sleeping phase." The Oura app analyses the signals transmitted by the ring wearer's body and provides scientifically confirmed material, allowing the wearer to execute their everyday tasks to their full potential."
The sensors inside the ring compute heart rate from the arteries in the fingers and grasp a considerably stronger signal than wrist-based watch alternatives, aiming to target the detrimental effects of stress or disease on the body. The ring has a sleep analysis feature that measures sleep quality based on vitals and time spent in each stage of sleep. It is designed to be worn during the day and night. The OURA App, which analyses individualized health parameters and gives recommendations on optimizing health, exercise, and making the most of each day, allows users to access all of their data.
Gucci isn't the only high-end brand to collaborate with fitness and activity tracker companies. Fitbit has cooperated with Tory Burch and Gorjana on a line of unique accessories, while Apple has collaborated with Hermès on a line of replaceable bands in a variety of styles. The Italian company, on the other hand, is the first to introduce a collaborative smart ring that incorporates cutting-edge technology. According to Oura, the smart ring collects data from the arteries, which is more accurate than data collected by other wearable devices like smart bands or smartwatches. The companion Oura app, which is available for Android and iOS smartphones, may also be used to retrieve health data.