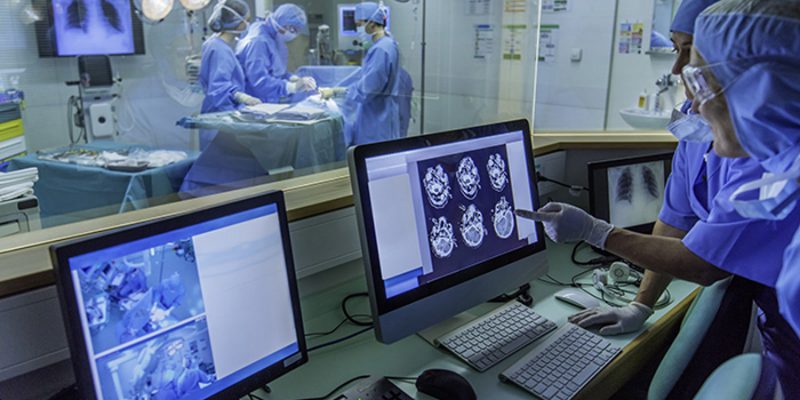 The successful application of AI in healthcare is inspiring healthcare businesses to come up with something new to increase the productivity of the industry.
Experts use artificial intelligence to improve goods and services in various sectors. The 100 most creative artificial intelligence businesses globally have been collected in a new study by CB insights. Healthcare is the most well-represented industry on the list, such as climate risk and viral modeling. In a fraction of time, it would take a person to finish a hard task or make sense of massive volumes of data AI can do so. Artificial Intelligence (AI) is at the cutting edge of healthcare innovation. Robot-assisted surgeries, virtual nursing assistants, medication error reduction, and other AI uses in healthcare are among the most popular. By 2026, these apps are expected to save the healthcare industry US$150 billion each year.
Here are our top ten businesses that are utilizing AI to improve the services they provide: 
Google health
To effectively study the potential of AI-enabled products, Google Health has built collaborations with various healthcare institutions throughout the world. Using computer vision AI, Google Health is creating tools to help in the study of hair, skin, and nails. Also the identification and treatment of skin disorders.
J&J
Johnson & Johnson has just begun new research cooperation to better its healthcare products by merging AI and genomics. A spokesperson stated, "Using AI and data analytics in healthcare will alter our civilization." "By utilizing these new techniques and partnering with key thought leaders, we want to get a better knowledge of disease progression, allowing us to identify, treat, and eventually prevent life-threatening medical disorders." 
Unlearn AI
Unlearn, in clinical investigations, AI is pioneering the use of 'digital twins,' which are virtual duplicates of gadgets or people that may be used to execute simulations. The time taken to conduct clinical studies can be cut in half by producing virtual patients based on real data. The San Francisco business is presently employing machine learning to predict Alzheimer's disease development. 
Theator
Surgeons developed Theator's surgical platform to address surgical treatment variability and inequity. It gathers video data and converts it into useful information using AI and computer vision, allowing surgeons to improve their performance. Theator has generated around $11.7 billion in equity capital since its founding in 2010. Theator has established agreements with prestigious medical institutes in the last year, including McGill University Health Centre.
Deep genomics
Suggesting that human biology is simply too complicated for humans to understand might have been an unpopular claim for a healthcare company, but it was an honest one. Deep Genomics knows that advancing drug development will rely on AI. Its AI Workbench can assess thousands of possibilities, to pinpoint 'the best therapeutic candidates'.
Overjet
Overjet uses AI, computer vision, and data analytics to assist dentists in determining what dental procedures a patient need. Overjet costs health insurers per claim rather than every X-ray, which is a significant difference. Overjet's CEO has a Ph.D. in Electrical Engineering and Computer Science from the Massachusetts Institute of Technology, and the company was incubated in the Harvard Innovation Lab.
Pfizer
Pfizer is intrigued by AI's potential for assisting scientists in the discovery of novel medications. "The methods which giants like Google use to research work was conducted, complicated datasets can also be used to predict future disease and alternative therapeutic outcomes in human health data," says Austin Huang, Associate Director and Biomedical Data Science lead at Pfizer's Genome Sciences as well as Technologies group. 
Owkin
Owkin, a French-American company, promises to connect hospitals with pharmaceutical firms and research institutes by employing artificial intelligence to deliver insights to medical researchers and scientists. Stakeholders and researchers may cooperate through Owkin Studio, a virtual center where they can use forecasting analytics and analysis to enhance patient outcomes.
Cure metrics
CureMetrix is a company that uses artificial intelligence to improve cancer survival and illness identification. The organization is certain that its specialized radiologists are capable of analyzing mammograms using the most up-to-date technologies. As a result, hospital systems will be less stressed, and patients will have lower financial bills.
Novartis
From diagnostics and drug development to enhanced drug development and daily patient care, Novartis is utilizing AI to improve the precision and agility of its services. Novartis' objective is to enhance patients' lives, which entails thoroughly assessing the use of AI before implementing it and deploying it responsibly.