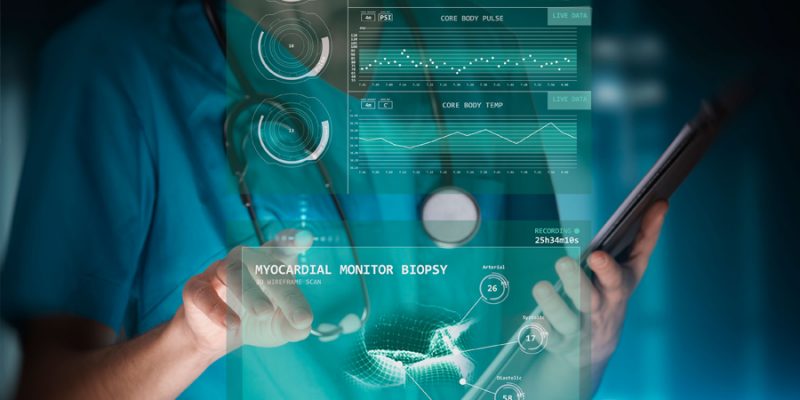 Because of the growing need for individualised therapy, low-cost healthcare, healthcare organisations are increasingly focused on technological advancements in the coming years.
There's no denying that the epidemic accelerated the development and implementation of digital health technology at a large scale. Investment numbers and deal counts in 2021 have surpassed those in prior years, and the sector is now forecast to reach approximately $650 billion (€574.2) by 2026, with a compound annual growth rate (CAGR) of 28.5%. While the question of how and when COVID-19 will be overcome remains unanswered, one thing is certain: increased financial interest in health technology will continue apace not just in 2022, but throughout the decade and beyond.
From 2021 onwards, the emergence of digital health solutions aiming at easing the delivery of healthcare services, will spread. Virtual care, such as telehealth and remote monitoring, will continue to be a critical tool for expanding healthcare access. We may predict an increase in demand for integrated 'companion' solutions, ranging from wellness and remote monitoring, to the Internet of Medical Things, as telehealth becomes more popular (IoMT). Unlocking data will be critical in informing new areas of interest such as digital therapeutics (DTx), and the transition to a more value-based healthcare model as the digital revolution continues to make healthcare more patient-centric.
The Indian healthcare business, according to Gaurav Gupta, is on the verge of a significant digital change. While Covid-19 exposed the flaws and hazards in our healthcare system, technology is allowing the industry to leapfrog gaps in medical treatment and infrastructure. According to the Healthcare Information and Management Systems Society's (HIMSS) 2021 Future of Healthcare Report, nearly 80% of healthcare systems plan to expand their investment in digital healthcare technologies over the next five years.
Here are a few technology innovations that might have an impact on healthcare in 2022 and beyond:
Digital Therapeutics
As we approach 2022, more healthcare providers are embracing digital therapeutics (DTx), which uses high-quality software to give medical care and evidence-based treatments directly to patients. This enables clinicians, to make an educated decision on the best treatment option for their patients' issues. Because digital data is created and tracked continually, it aids in overcoming non-adherence in chronic illnesses and thereby improves treatment outcomes.
Remote Patient Monitoring
During the COVID-19 epidemic, when individuals were forced to adhere to mobility limitations and social distance conventions, the notion of remote patient monitoring acquired a lot of traction. RPM is slowly but steadily becoming the future of providing healthcare services to patients, by equipping them with a variety of medical devices such as implantable, blood pressure cuffs, sensors, and other gadgets that allow clinicians to obtain real-time patient data for improved treatment. It is frequently advised for discharged patients, since it allows doctors to regularly monitor their patients and act on critical data, reducing the number of visits to the doctor and speeding up the healing process.
Smart Wearables and Devices
Patients may take a more active part in their health with wearable technologies in healthcare. Wearable technology allows patients to measure anything from heart rate to reproductive cycles. This information may also be used by doctors to create personalised treatment strategies. Furthermore, data collected through wearables is more methodical and accurate in collecting all of the patient's medical facts and vitals. There are smart inhalers, smart hearing aids, sleep bands, bio patches, and other smart gadgets on the market, in addition to fitness bands and smartwatches.
Telemedicine
The traditional care delivery paradigm was overturned by social isolation and stay-at-home orders, allowing many healthcare practitioners to adopt telehealth and virtual patient monitoring. Telemedicine improves patient participation, while also making healthcare more accessible and cost-effective. It's especially useful for wounded, immunocompromised, or distant patients who may now communicate with doctors online over a secure video link. Quick diagnosis, real-time patient insights, and, in certain situations therapy, have all been made possible via telemedicine systems.
Digital Prescriptions and Digital Health Records
One innovation that is changing the healthcare environment is digital prescription. A digital version of a paper prescription generated by healthcare practitioners utilising digital means/software, is referred to as an e-Rx. Furthermore, digital prescriptions aid in the creation of digital health records for patients, which improves patient outcomes by reducing the risk of human error in the interpretation of incorrect medications. e-Rx is useful to both patients and doctors. Electronic prescriptions are predicted to see a significant increase in use by 2022, to reduce paperwork and extend storage life.
Because of the increased need for individualised treatment, inexpensive healthcare, and the debilitating effects of Covid-19, more and more healthcare organisations are focusing on technology developments in the next years. The advancement of health technology is paving a new route for the future, one that will result in better patient outcomes, lower medical expenses, and more efficient treatment.