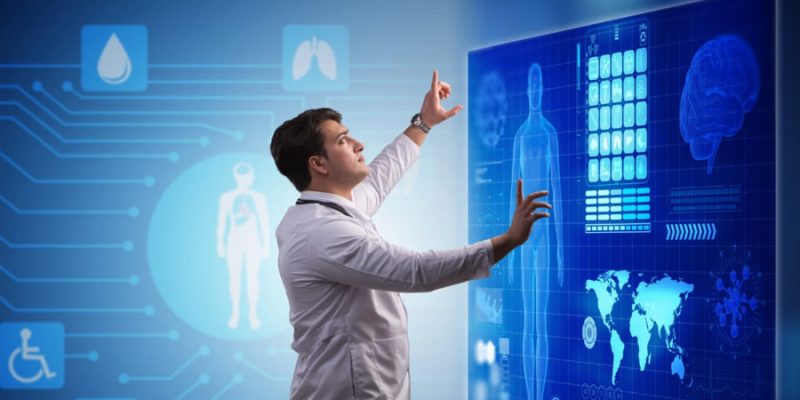 Let us take a look at a few the newcomer in Healthcare, AI-based Software in healthcare for Clinical Trial Research
A crucial element driving worldwide AI-based software in healthcare is the increasing utilization of AI-enabled digital technologies. Increased usage of AI-enabled smart health technologies in conjunction with patient care platforms is predicted to boost patient retention and engagement during and after study completion, resulting in revenue growth for the globally AI-based clinical trial solutions providers market.
For acquiring, standardizing, analyzing, and exploiting the enormous amounts of data that fuel current therapeutic development, AI-enabled tools offer data integration and interpretation, as well as evolutionary modeling and pattern identification. As a result, Artificial Intelligence (AI) and advanced analytics are regarded digital technologies that have the potential to increase clinical R&D performance and clinical results.
Clinical trials are complex undertakings, and handling all of their features is just too difficult for standard project management software. Budgets, data collecting, compliance, research schedules, and other tasks can all be handled by individual apps. Juggling many systems that do not communicate with one another is inefficient. It is preferable to have all of this information in one location so that you do not miss anything. Modern CTMS features include centralized databases, comprehensive analytics, & fully-featured patient management systems. This article features the top 10 AI-based software in healthcare for clinical trial management.
1. Clinical Conductor CTMS is the clinical trial management solution that incorporates regulatory compliance requirements into your clinical trials. This technology ensures that investigations are done successfully and that their aims are met thanks to its smooth ability to interact with all sorts of research companies.
2. IBM Clinical Development has secured a long list of powerful CTMS features. This technology is designed to assist you to improve your research workflow by providing a single cloud-based electronic data gathering tool that delivers a 360-degree view of important trial data. It also includes patient interaction modules, as well as randomization & trial supply management capabilities, to ensure that your clinical trials run successfully.
3. BSI CTMS streamlines automate and controls your clinical trial procedures. It may be used as a new addition to your systems, or it can be used to plug in the important but missing modules, extensions, interface, and connections to your current clinical trial management system.
4. Medidata's Edge CTMS is a powerful cloud-based research management system. It uses agile development methods to help you keep a consistent pace for your clinical research sometimes in the face of unanticipated events, making it ideal for enterprises of all sizes.
5. DatStat CTMS: DatStat is among the few clinical trial management systems that prioritize patient care throughout the study process.
6. MasterControl CQMS is a clinical research management solution that helps life science companies manage documents, project tasks, events, quality events, audits, and training, among other things.
7. Intrinsic CTMS: Intrinsic's CTMS clinical trial solution offers a full, centralized end-to-end management platform for all clinical studies, as well as all of the necessary applications for effective CTMS clinical trial management.
8. EXPeRT eClinical is one clinical trial management tool designed for companies who want to optimize their trial operations. With real-time analytics, trials management, risk management, and business intelligence, the program drastically reduces time-to-market.
9. LifeSphere CTMS is a completely customizable clinical trial management technology that lets research organizations, biotechnology businesses, and pharmaceutical corporations organize, run, and close clinical studies efficiently.
10. BioClinica CTMS is mostly a web-based clinical trial management system that may turn clinical trials into a highly productive work environment. The software's connections with SharePoint as well as other Microsoft applications make this feasible.