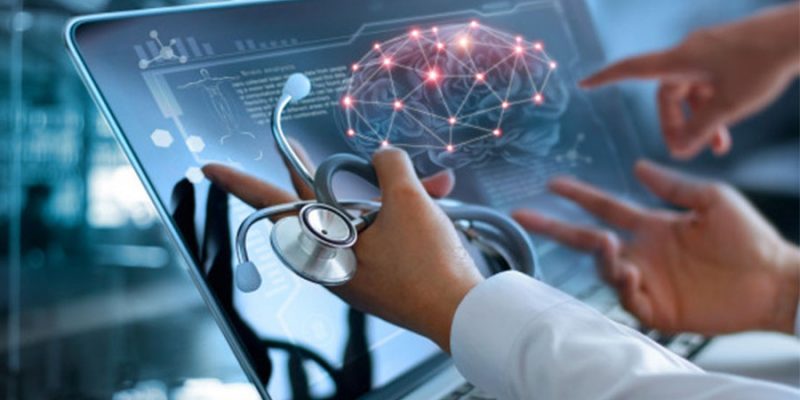 The top 10 healthcare technology trends and forecasts for 2023 from the healthcare industry
The healthcare industry and owners of medical practices are aware that it is wise to frequently scan the horizon for emerging trends in healthcare technology. The goal is to find a small window of time in their already packed schedules to gain a better grasp of potential future events. You may support your bottom line by doing this in the upcoming year. Here are the Top 10 Healthcare Technology Trends and Forecasts for 2023
1.  Telehealth, AKA Telemedicine
The emergence of the global coronavirus that led to COVID-19 infections prompted the closure of significant economic sectors and had a significant impact on medical procedures and developments in healthcare technology. So, as a way to still allow doctors to see patients, although in a restricted capacity, telehealth usage increased. Healthcare Dive reported that between 2020 and 2023, the cost of medical services incorporating telehealth might increase by 265%, from $29 billion to $106 billion.
2.Utilizing the Cloud for Outsourced Billing
By 2023 in the healthcare industry, the market for medical billing outsourcing globally is projected to grow at a 12.5% CAGR, according to Medgadget. This signal may encourage you to outsource medical billing, which can give healthcare providers more financial control. It makes sense to outsource this work to a third-party medical billing facility because practices frequently find it difficult to internally hire as many billing staff members as they would like.
3.Remotely Monitoring Patients
The capacity to remotely monitor your patients is a crucial technological area to keep in mind. Digital health solutions will undoubtedly enhance patient outcomes in the future as the healthcare industry continues to swiftly evolve. It will be considerably simpler to attach a heart monitor to a patient in 2023 for an at-home study as opposed to keeping him in the hospital for several days.
4.Accounting for Security and Technology Costs
Using the development of software and healthcare technology, the healthcare industry is now required to protect these systems with monitoring systems, such as firewalls and anti-malware software. It's reasonable to expect that in 2023, malicious hackers will try to access your data and steal critical patient information that you must maintain secure to abide by the Health Insurance Portability and Accountability Act of 1996.
5.Artificial Intelligence's Place in Healthcare
It's no secret that AI in healthcare is currently revolutionising a wide range of industries, including healthcare. AI is already being used in medicine to expedite medical billing and revenue collection. AI in healthcare can quickly review enormous amounts of unstructured patient data and establish pertinent links for healthcare organisations, making these advancements in healthcare technology conceivable.
6.Patient Engagement with Online Services, Such as Portals, Has Increased
Patient portals linked to their doctor's EHR system will become more popular in 2023 as a new trend in the healthcare sector. In contrast to waiting on the phone to complete such chores, the programme enables a patient to log into your system to do things like request an appointment or a prescription refill, for example, or to leave a message for the doctor.
7.Monitoring Blood Sugar Levels with Ambient Intelligence
Hospitals can monitor a patient's blood sugar levels covertly and continually thanks to wireless sensors integrated into an ambient intelligence network. For this reason, patients are made to wear biocompatible wearable technology. In addition, a patient's body receives sensors. The implant subsequently transmits the information it has gathered to a telemeter, which then relays it to medical professionals and patients. This is a huge improvement in the healthcare industry.
8.Smart Care Promotion Using Ambient Technologies
Medical facilities are using all types of ambient technology for smart living. All medical procedures will continue to be automated by the industry, and the faster these technologies are developed by researchers, the more healthcare professionals will be able to interact with them.
9.Tools for Ethical Ambient Intelligence
Researchers must assure data privacy and model openness for ambient intelligence to be accepted as a tool in the healthcare sector. Re-identifying data by obliterating individual identities is one of the most important privacy-preserving strategies. Creating trustworthy systems is essential because the deployment of ambient intelligence requires the collaboration of medical experts, researchers, and computer scientists through law and ethics.
10.Ambient Intelligence Use Outside of Hospitals
By enabling personnel to care for patients as freely and conveniently as possible, ambient intelligence technologies not only make hospitals safer but also reduce the cost of healthcare. There is no doubt that it will improve patient care, raise provider satisfaction, and cut back on healthcare and treatment expenses in the healthcare industry.