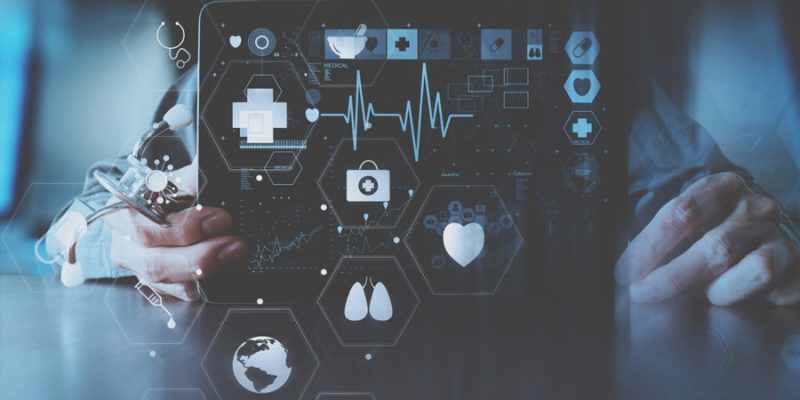 Hybrid cloud behind successful management of data security in the healthcare industry.
Healthcare is a progressive industry and healthcare data has an immense value as it carries documents that impact human lives enormously. Accordingly, the more protected, the more determined will the healthcare data be. Healthcare is rapidly shifting towards the online mode so the paperwork that happens to be consists of enormous relevance. Healthcare data adopting cloud computing services is the key to the successful operation of the industry. On top of that if a more accurate solution is adopted then it does justice to the dependence of millions of people towards the industry. No other industry is as crammed and demanded as healthcare thus a delicately controlled data security can result in further health tech progress. As a result, Hybrid Cloud computing is growing in popularity in the health tech industry.
Hybrid cloud is hitherto the best solution for data security that deals with the bulk of operations with respect to data. Hybrid cloud is a combination of private cloud as well as public cloud. Therefore, it can be employed to achieve an optimum level of performance. Blending a personalized mechanism as well as a generalized one assists in driving better traffic to the healthcare service.
The Changing Paradigm
Along with several other industries, the healthcare industry took a leap forward and inspired people to access therapies online. With this shift, more and more individuals started thinking sensibly and aided the world to contain the ongoing virus by taking remote help from medical professionals. This involved a bulk of logistical operations moving to the virtual platforms. This requires a serious record of activities and a pleasing Experience to the seekers of healthcare. Cloud computing being the most desired form of computing services introduced hybrid cloud that has the most promising data security functions. With the function of public cloud insertion in it, it helps the users to crawl over different services available on the website, software or applications and at the same time assures them that their privacy must be complied with. Hybrid cloud enables the users to lay their trust identical to offline paperwork as they experience the quality of the service.
Uncompromised Infrastructure
The infrastructural interface is highly equipped with user-friendly mechanisms, unlike the private cloud where access is only limited to the one entitled. Acquiring information in healthcare is a satisfaction that is empowered to the beneficiaries. Therefore, a tight and enclosed site will only drive away from the seekers of health care far apart as they are not exposed to the facilities a medical institution is employed with. When users are offered an impressive web experience of the healthcare service, they are likely to avail it. Therefore, with remote healthcare being the present and future, a hybrid cloud is a definite solution without hampering security.
Hybrid Security
The migration from one action to another is adequately encrypted on a hybrid cloud. The secluded kind of information sharing is one of the best features that hybrid cloud is appreciated for. Secured camera functioning and not direct access to locations are helpful in facilitating healthcare operations. Authentication of identity is a serious affair in the hybrid cloud as communication between medical professionals and patients in healthtech has taken a major role. Data security functions in hybrids also include administrative control that trains people on how to manage crises and security threats.
Enhances IT Performance
With the IT team gaining extra support from the technology their stress on slipping out of data security is reduced. This channelizes their attention towards the tremendous quantity of incoming and outgoing data operated by healthcare seekers. Furthermore, enhances their performance and eases the workload.