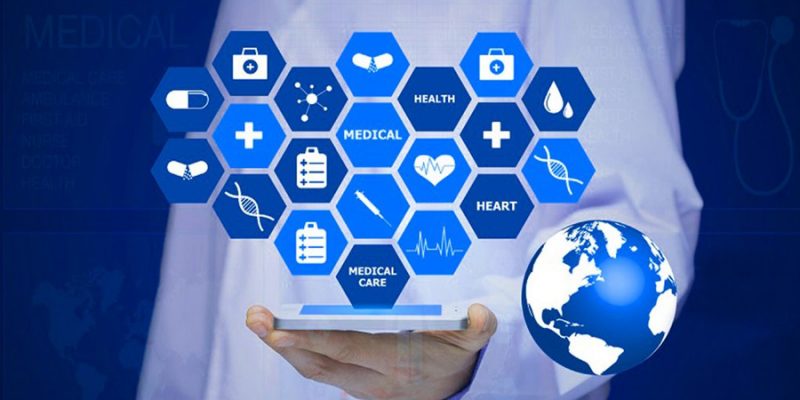 Blockchain and smart contracts are extensively employed in the most popular healthcare applications.
Blockchain and smart contracts are widely used in increasingly popular healthcare apps (i.e., computer code that can execute on the blockchain). However, there are surprisingly few implementations because of the complexity of the technology. Even though materials and lessons on blockchain and smart contracts exist, a practical comparison of various platforms is still necessary. Blockchain technology is being used in a variety of industries, including healthcare, to provide cutting-edge solutions. In the healthcare sector, patient data is stored and shared throughout hospitals, diagnostic labs, pharmaceutical companies, and clinicians via a blockchain network. Blockchain applications in the medical field may reliably detect significant errors, even ones that might be deadly. As a result, it may enhance the efficiency, security, and transparency of the exchange of medical data in the healthcare sector. Medical institutions may learn more and improve the analysis of patient data with this technology.
The smart contract is one of the most important recent developments in blockchain technology. Smart contracts are computer programs and coding that control digital assets that are blockchain-recorded and are referred to as "smart properties." A smart contract, then, is a program that may be run as a component of a blockchain transaction. For instance, it has been recommended that smart contracts be used in some countries to speed up the application process for medical licenses. It eliminates the requirement for human validation of antecedents and consequences by relying on computers to automatically follow out the program's stated logic to accept or deny a request. Smart contracts are additionally observable and unalterable.
Blockchain uses in the healthcare industry
A distributed ledger, or blockchain, only allows for a single point of entry. Despite being created initially for financial transactions, its uses are numerous. The use of this new technology in medicine is one of its most significant and promising applications. The literature identifies four main categories of health or clinical blockchain applications:
Those that enhance medical record management (e.g., securely storing patient records); securely or scalably share clinical data; help control privacy risks, and promote security or privacy of electronic health records;
Applications that improve insurance claim processes, for instance, by utilizing computer code on the blockchain (i.e., "smart contracts");
Programs that use data ledgers to promote biomedical or healthcare, including those that provide a decentralized health data sharing foundation, immutable clinical research methods, and patient consent documentation.
Tools that allow data exchange among researchers and/or that hasten clinical or biological research, such as those that assist in gathering and managing patient-generated health data.
Principal advantages of blockchain in healthcare
The primary justification for the above-mentioned applications' adoption of blockchain is based on its "off-the-shelf" capabilities, which cater to many of the demands of real-world health science. Decentralized management, for instance, is incredibly beneficial for managing digital assets created by diverse organizations (such as biological data, software, and "recipes" or processes widely employed in predictive modeling and analytics). As a result, actions can be carried out without a central point of "ownership" or "control." This trait is particularly appealing for applications where users want to confirm the use of their assets and prefer not to rely on a single central authority (e.g., federated clinical data networks for quality improvement, health insurance operations, cross-institutional consent management without the need for a coordinating center). Another benefit is the ability to document data provenance, which is important in systems like clinical decision support and surveillance. This is made possible by the immutable audit trail that blockchain technology produces and permanently records transactions, ensuring that important documents (such as a log of who accessed sensitive patient information) are always accessible to everyone on the network.
Healthcare applications use blockchain technology
The choice of the best underlying blockchain platform is one of the crucial first stages in the design and construction of a real-world healthcare blockchain project. These are the three primary platforms.
Ethereum- For patient-managed health information sharing apps, MedRec and Patientory suggest using a blockchain built on the Ethereum platform. On a blockchain network based on Ethereum, Nebula Genomics promises to distribute and analyze genetic data. It was also suggested that Ethereum be used for medical applications such as automated remote patient monitoring and clinical data exchange.
Hyperledger- The Hyperledger platform is suggested for use in a framework for exchanging cancer clinical data for patient care. Additionally, a framework for enforcing Institutional Review Board requirements was designed with Hyperledger in mind. Additionally, Hyperledger is suggested for apps that store or access medical data as well as mobile healthcare applications. Hyperledger established a working group to foster technical or commercial partnerships for blockchain applications in the healthcare industry.
MultiChain. Through the help of decentralized cross-institutional predictive modeling, ModelChain has been utilized to speed up research and promote efforts for quality improvement. Without sending data or the model to a centralized place, ModelChain's usage of blockchain enables several institutions to increase prediction power by adding data to a collaboratively constructed model. Predictive analytics in anesthesiology was the focus of ModelChain's initial application, which made use of a permissioned blockchain called MultiChain.