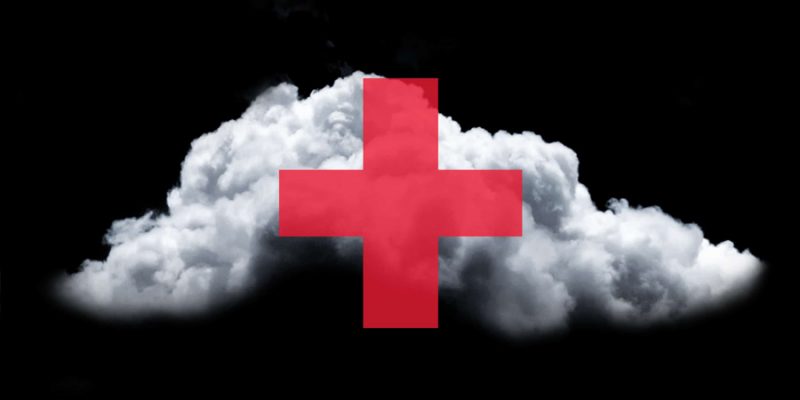 Cloud computing is rapidly being used by hospitals and healthcare providers throughout the world to handle some of their most critical issues, such as population health, care coordination, and data security.
The availability of networks, computer software, and infrastructure that allows users to access critical applications, servers, and storage is referred to as cloud computing. Cloud computing offers several benefits to medical services, including the ability to simply and securely store hospital or medical information, deliver test data directly to doctors, and allow simple access to doctors and patients. The healthcare cloud computing industry is predicted to increase by US$25.54 billion by 2020, according to the most recent estimate. Cloud computing is crucial for improving patient care, increasing productivity, and identifying faults to assure their safety. As examples from India, the Netherlands, the United Kingdom, and the United States indicate, cloud computing may be beneficial in a variety of healthcare settings.
Cloud technology is rapidly expanding in the healthcare business, with estimations putting its worldwide market worth at almost US$10 billion by 2020 and US$45 billion by 2023. According to Black book market research, healthcare cloud use has accelerated at a pace of 74%. The worldwide healthcare cloud computing industry is segmented into two pricing models: pay-as-you-go and spot pricing. In 2019, the pay-as-you-go model gained the biggest market share. Furthermore, this approach enables healthcare providers to make use of the most recent technological solutions while reducing operational expenses to a minimum.
Cloud computing impacts healthcare in the following ways:
Lowering of cost
When using the cloud, physicians, caretakers, and other healthcare practitioners may instantly access precise information about patients from many sources, removing the need for large networks and sophisticated security standards. 88 percent of healthcare firms have seen a 20 percent reduction in infrastructure costs by putting their healthcare ERP on the cloud. The cloud can store massive volumes of data at a very low cost. Because it operates on a pay-as-you-go and subscription basis, suppliers only pay for the services that they use.
Better data management
Patients can use cloud computing to save critical information or data and share it with physicians for consultation and feedback. It serves as a platform for improved consumer data management. Healthcare organizations are heavily investing in cloud services for their patients in the form of software, infrastructure, and platforms. This enables improved information exchange, record management, and resource use in the healthcare organization.
Patient's ownership of data
Cloud computing gives patients complete control over their health, allowing them to determine what is good or harmful for them. It aids in increasing people's engagement in health-related decision-making with clinicians. It is a tool for teaching and engaging patients. Patients may simply archive and access medical data and reports or photographs whenever they want while retaining data, and they can also provide comments or reports straight to the doctor for urgent assistance.
Telemedicine capabilities
Cloud computing increases telehealth, pre-and post-hospitalization care plans for patients, treatment plans, and virtual medical aid, among other things. It is attempting to bring about a healthcare revolution through health tech or telehealth by launching several applications aimed at enhancing the patient experience. Such apps facilitate data exchange, increase accessibility, and monitor treatment plans, among other things.
Ease of interoperability
Today, a rising number of healthcare providers provide patients with IoT-enabled devices, and by connecting such devices to a hospital's cloud system, patient data is promptly delivered directly to their doctor. This provides medical practitioners with valuable insights and access to real-time health monitoring, allowing for better treatment and faster diagnosis for patients. Telehealth also improves access to healthcare services.
Advanced cloud computing has also aided medical research innovation by providing researchers with secure access to relevant, de-identified datasets. Genomics England collaborated with Lifebit to acquire access to a cohort of sequenced genomes from 20,000 individuals with severe COVID-19 infection and 15,000 patients with less severe instances (with reference data from the 100,000 Genomes Project). These data were used by leading research institutions and pharmaceutical businesses to assist create new diagnoses, treatments, and immunization programs.
The cloud's on-demand computing function offers value, particularly when healthcare institutes and providers need to deploy, access, and manage network information at the drop of a hat. With the increased demand for data-based security, there must be a shift in the development, utilization, improved storage, cooperation, and sharing of healthcare data strategies. It is the point at which cloud computing leaves no stone untouched!
One such industry that has been at the forefront of adopting cloud technology in healthcare. Across the globe, healthcare providers are realizing the true potential of cloud technologies.