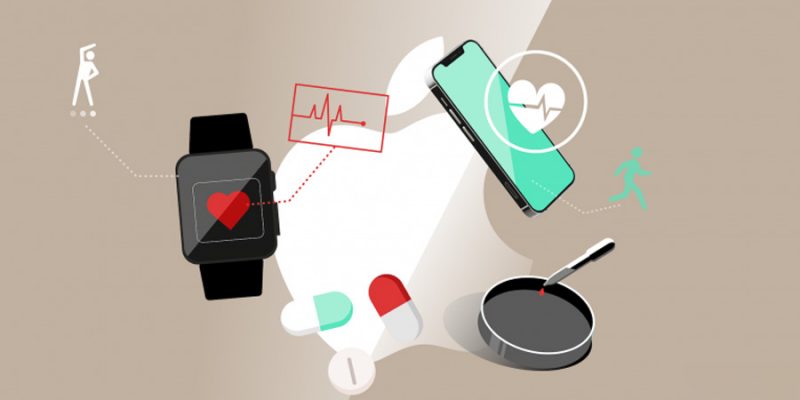 Apple and Amazon are tempted to change the healthcare industry but only one sword can fit in the healthcare sheath.
The $4.1 trillion medical expenses that Americans spend annually on healthcare is something that two tech titans Amazon and Apple are attempting to change. Their methods could not be more dissimilar. One business is obediently following a long-standing unspoken rule of health technology. The other is about to completely change the rules governing healthcare.
Apple published a 59-page report around the end of last month that it referred to as "a snapshot of our work to promote health." It was planned as a dramatic, audacious announcement that would establish Apple as a key player in the healthcare industry. Instead, detractors described it as a last-ditch effort to persuade investors that the business is keeping up with its competitors. When he claimed that Apple's "biggest contribution to mankind" would be health-related three years ago (a remark that was conspicuously removed from the company's nearly 60-page report), CEO Tim Cook may not have anticipated the fast, severe, and undoubtedly negative media response. Despite the report's lofty rhetoric, it contained little proof that Apple was on track to significantly advance American health.
For instance, the "Apple Heart Study" sought to demonstrate that the Apple Watch is capable of reliably detecting atrial fibrillation (AFib). The endeavor was a textbook example of rule-following: Apple collaborated with a renowned academic research partner (Stanford), provided funding for the extensive study, and then engaged in a protracted PR victory lap once the findings were out. The results, which some independent researchers deemed "useless" because of the study's poor demographics, high dropout rate, and lack of follow-up, were not as well received. Additionally, critics noted that widespread AFib screening could "cause more harm than good." A different research on the watch itself discovered that "just 13% of persons who were ultimately diagnosed with atrial fibrillation had received an abnormal heart rhythm warning previously."
Another medical device that creates gigabytes of health data is unnecessary for that group (EKG tracings, blood-pressure readings, etc.). Additionally, the already overworked medical professionals serving that demographic do not need all that information clogging up their patient records. Patients with chronic illnesses require a device that provides them with one of two kinds of information:
You are OK. In other words, your heart rate measurements, blood sugar, etc. fall within a range that your doctor has defined as acceptable. You're not alright. There is a problem, and you need to call your doctor immediately.
This kind of technology, which combines algorithmic and AI techniques, might potentially save millions of lives without overburdening medical staff. Because doing so would turn Apple into a medical care provider, the corporation has not yet developed it. If that were the case, any measurement or analytical error would put Apple in serious legal and medical danger. Tim Cook is aware that taking the safe route and getting along with the greatest names in healthcare virtually ensures future financial success. But Apple won't likely have a significant impact on the healthcare industry until it is prepared to take chances and upset the status quo.
On the other hand, Amazon announced the $3.9 billion purchase of One Medical, a membership-based primary care practice with locations in San Francisco, New York, and 23 other metro areas, the same week Apple delivered its unimpressive report. It was the latest in a string of significant actions by Amazon that do not represent "playing nice" with the established authorities in the healthcare industry. The largest online retailer in the world has introduced its own pharmacy, telehealth, and urgent care services, as well as a health tracking device, a health data arm, a cloud-based medical records service, and a collection of neighborhood health clinics close to employee hubs. Amazon is becoming a bigger and bigger threat to drug companies, hospitals, doctors, and insurance as its healthcare services expand.
Amazon has announced that it will shut down its virtual care business later this year and switch to an expanded telemedicine offering through One Medical. The most challenging aspect for any "new" player in healthcare, including Amazon, is gaining scale. It takes a lot of money, effort, and time to develop medical offices, hire doctors and draw in new patients. With the purchase of One Medical, Amazon acquired 188 clinics, 700,000 patients, and enough medical professionals and support personnel to care for them. Additionally, the business may continue to grow significantly in the years to come with $60 billion in cash on hand.
Bezos and his successor Andy Jassy are aware that healthcare upheaval and dominance are possible if Amazon can pleasure patients as much as it pleases its present retail customers. Furthermore, if Amazon does indeed approach healthcare with a customer-service mindset, we may anticipate that it will bargain for the lowest costs on everything from prescription drugs to doctor appointments. It will place a strong emphasis on affordability and information openness, two things that are sorely lacking in today's healthcare.
However, Amazon must continue to invest in scale and expansion if it is to prosper. One or two million Amazon customers are insufficient. For instance, Humana, the smallest of the "Big 5" insurers, has 16 million members compared to UnitedHealthcare Group's 70 million.
With 5 million subscribers, Amazon could make One Medical a profit center rather than a loss leader (now losing $240 million annually). To improve care coordination and operational efficiency, Amazon could expand One Medical's current primary-care-only model to include specialists if it reaches 10 million subscribers. With 50 million members, Amazon could overtake Medicare as the country's largest insurer and healthcare provider, with the power to demand cheaper prices from all participants, including physicians, hospitals, and pharmaceutical companies.
In the end, Amazon will overtake every other participant in the market if it can scale up and make healthcare as simple as its cherished one-click "buy now" function. It will also leave its Big Tech competitors, like Apple, in the dust.