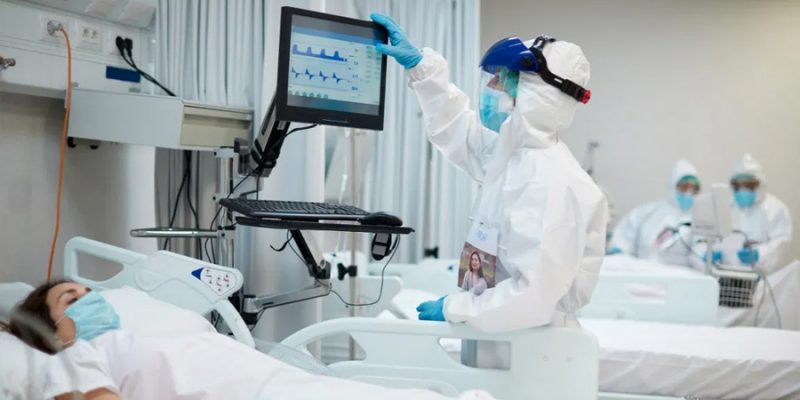 AI models actively performing healthcare predictions to contain Covid-19 hospitalization 
Recent studies and research suggest that healthcare data can potentially empower AI in healthcare to make decisions and predict individual medical conditions that are vulnerable to being hospitalized. While individual-level predictions are beneficial for patients as they are saved from being at a critical point, they can also significantly alert the healthcare industry about an approaching public-health risk such as Covid-19 hospitalization. It would further enable physicians and experts to tackle the situation faster. Besides, this is majorly possible with health information exchange or HIE, which ensures the circulation of healthcare data throughout the healthcare industry to enrich the predictive algorithms in the AI model for healthcare prediction. 
Public Health Decision-Making
Using healthcare data collected from health information exchange has leaped the barrier of converging clinical records with decision-making entities. Earlier it was considered to be an enormous challenge to enable healthcare professionals to take reference depending upon earlier experiences. Experts can overcome the challenge by incorporating worldwide healthcare data into AI healthcare prediction models. The introduction of these models has successfully predicted hospital reservations one week or six weeks before the occurrence. Certainly, manifesting high-end efficiency to combat Covid-19. 
Emerging Variants And Concerns
Covid-19 has jolted all of us with continuous mutations that give birth to a new variant. In such a scenario, the operation or deployment of AI healthcare prediction models is necessary. Once a new variant occurs, after a sufficient point in the number of cases, further damage attempted by the variant can be controlled that will, in turn, decrease Covid-19 hospitalizations. By simply with the help of HIE, healthcare data can be inculcated in the model to generate insights into patient conditions and future hospitalizations. This will considerably enable the healthcare industry to take immediate measures that will prevent a grave circumstance.
Role Of ML
Machine learning has a crucial role, for which AI healthcare prediction models are highly appreciated. Since the beginning of Covid-19, existing healthcare data of the past public health crisis as well as general data from repositories are used to optimize ML models. By far, this application of ML to operate embedded data according to the optimization and produce healthcare predictions have been one of the most advanced in the healthcare industry. The data that goes behind plays the dominant role even above machine learning. The model is as efficient and accurate as the data is. 
Broad Scale Response
Healthcare data or HIE carries immense importance as they decide on the fate of the larger population. While organizational analytics based on probabilities are barely admissible in the policy-making procedure of public health caused by Covid-19, exerts use population-wide data. The AI healthcare prediction model developed by Regenstrief Institute and Indiana university considers various other associated diseases, age, strength, besides Covid-19 to predict hospitalization.
Benefit and Drawback
Experts use the AI healthcare prediction models to identify any health crisis, upcoming pressure, or flooding of hospital beds, and to be prepared with required healthcare resources. Risks of outbreaks and pandemics are also examined. However, one of the major shortcomings pointed out by experts are the discriminatory results like one was recognized based on gender and address, where male members of the society are assumed to be stronger by the model and so as with the urban dwellers.
Further Attempts of Developments
In Israel and USA, several scientists attempted to attain healthcare objectives. While the Israel scientists were willing to discover the future trajectory of Covid-19 through individual patient records, the scientists from the USA tried to predict the intensification of the disease after first-day admission with their own built AI healthcare prediction model.