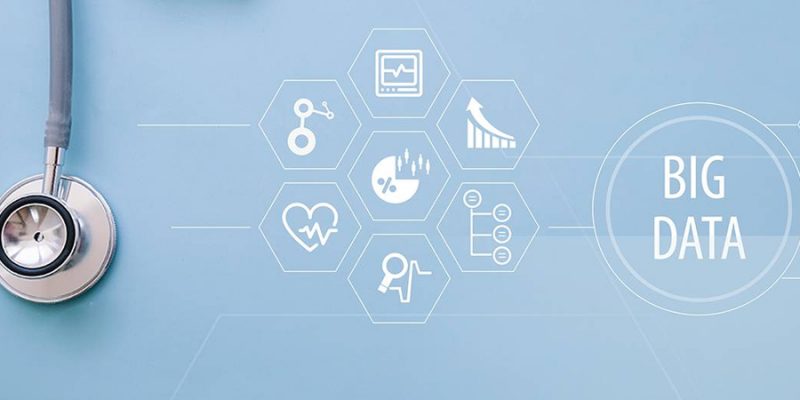 The objective of big data is to employ data-driven conclusions to not only foresee and solve issues, but also to prevent them from becoming too huge to handle
To better comprehend clinical context, avoid future health concerns, and possibly uncover novel treatment options, researchers, hospitals, and clinicians, which are turning into a large network of healthcare data. While data analytics is being utilised in a variety of ways to improve healthcare, we've compiled a list of five areas along with a few examples of firms and organisations that are working in each area where big data is tackling some of the industry's most pressing issues.
Electronic Health Records (EHRs)
In medical, it's the most common use of big data. Every patient has a computerised record that includes, among other things, demographics, medical history, allergies, and laboratory test results. Records are exchanged over secured information networks that are accessible to both public and private sector providers. Every record is comprised of a single editable file, which allows physicians to make changes over time, without having to deal with paperwork or the risk of data duplication.
Enhancing Patient Engagement
Many clients – and hence prospective patients – are already interested in smart gadgets that track their walks, heart rate, sleeping habits, and other data constantly. For example, chronic sleeplessness combined with a higher heart rate may indicate an increased risk of heart disease in the future. Another option is to employ newly developed wearables, that collect certain health patterns and send them to the cloud, where doctors can monitor them.
Cancer Treatment
The Cancer Moonshot initiative is another fascinating example of big data in healthcare. President Obama devised this plan before the conclusion of his second administration, to make ten years' worth of progress toward curing cancer in half the time. Medical researchers can utilise enormous volumes of data on a cancer patient's treatment plans and recovery rates to identify trends and therapies that have the best success rates in the real world. Researchers can look at tumour samples in biobanks that are connected to a patient's treatment data, for example.
Suicide and Self-Harm Prevention
Every year, almost 800,000 individuals die by suicide throughout the world. In addition, 17% of the world's population will self-harm at some point in their lives. These figures are concerning. While this is a challenging topic to address, big data applications in healthcare are assisting in the prevention of suicide and self-harm. Healthcare organisations can utilise data analysis to identify individuals who are prone to kill themselves since they encounter a large number of patients every day.
Reduce Fraud and Enhance Security
According to studies, 93% of healthcare organisations have experienced a data breach. Personal data is extremely valuable and profitable on the black market, which explains why any compromise would have far-reaching consequences. With this in mind, many companies have started to use analytics to help avert security threats by identifying changes in network traffic or other symptoms of a cyber-attack.
Advanced Risk and Disease Management
For some chronic sickness patients, big data and healthcare are essential for minimizing the chance of hospitalisation. It may also help to keep deterioration at bay. By delving into insights such as drug type, symptoms, and the frequency of medical visits, among others, healthcare institutions may provide appropriate preventative therapy and as a consequence, reduce hospital admissions. This type of risk assessment not only saves money on in-house patient care but also ensures that space and resources are available for those who need them most.
Medical Imaging
According to Carestream, big data analytics for healthcare might change the way images are read: algorithms developed via the analysis of hundreds of thousands of photographs, could identify patterns in the pixels and convert them to a number that would help the physician in diagnosis. They even believe that radiologists may no longer need to look at images, instead of analysing the output of algorithms that will study and memorise more images than they could ever recall in their lives.
Smart Staffing and Personnel Management
Patient care will deteriorate, service rates will fall, and mistakes will occur without a unified, motivated team. However, using big data techniques in healthcare, you may streamline your staff management tasks in a variety of ways. Time-strapped medical facilities can manage personnel. The projecting operating room demands the correct HR data, thus resulting in more efficient patient care.
Learning and Development
Expanding on our last point, the talents, confidence, and abilities of your employees at a hospital or medical institution might make the difference between life and death. Doctors and surgeons are, of course, extremely proficient in their fields. However, most medical institutes employ a diverse group of employees, ranging from porters and administrative clerks to heart experts and brain surgeons. Soft skills are almost as crucial as qualifications in the healthcare field.
Developing New Therapies and Innovations
The final example of healthcare analytics focuses on working for a brighter, bolder future in the medical field. Big data analysis in healthcare has the potential to aid in the development of novel therapies and medication discoveries. Healthcare specialists can detect possible strengths and weaknesses in trials or processes by combining historical, real-time, and predictive information, as well as a coherent blend of data visualisation tools.